COVID-19 Situation
We are currently still able to process and manufacture orders, but we are batching up outgoing deliveries to minimise the number journey we make, so our dispatch times may be longer than normal. We currently have a stock of materials, but we are not sure if we will be able to restock easily once these run out. We will post updates here if the situation changes, and will inform any customers if there will be any difficulty in fulfilling an order.
New Releases
We have continued with bringing the American vehicles up to date and online by revising them, changing the bulk of the model to resin. Our first two releases are the US amphibious landing craft the LVT-2 and LVT-4 these will be followed by the LVT(A)-1 and LVT(A)-4.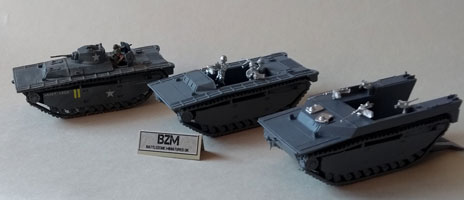 The next releases are the first nine US half-tracks in our extensive range with start with the M2, M3 and M5 then the M2A1 & M3A1 we have two varients of the 81mm mortar carrier the M4 & M21 and our first two gun carriages are the T-19 and T-30. Over the coming weeks the M5A1 & M9A1 will be released as well as the 75mm GMC, T48, M13, M14, M15 and M16.