COVID-19 Situation
We are currently still able to process and manufacture orders, but we are batching up outgoing deliveries to minimise the number journey we make, so our dispatch times may be longer than normal. We currently have a stock of materials, but we are not sure if we will be able to restock easily once these run out. We will post updates here if the situation changes, and will inform any customers if there will be any difficulty in fulfilling an order.
New Releases
We have purchased several figures ranges that were formerly the Sgt Major miniature company and are pleased that we now have the first two ranges available for sale. We have kept them closely in the sets of five figures, as they were in the Sgt major miniatures ranges they are also available as individual figures and larger cost effective sets.
Winter Russians
35 figures wearing a mixture of winter clothing and headgear.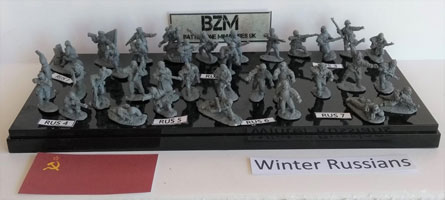 US Infantry
65 figures wearing a mixture of greatcoats and M1943 pattern Jackets and armed with a variety of infantry weapons. These figures depict European Theatre Operations.