2022 Shows
We will be attending Attack! in Devizes on the 17th & 18th July 2022 - preorders are now available through our website. Please remeber that we no longer take our full range of movement trays to shows, but they are available to pre-order and collect on the day.
New Releases
We have purchased several figures ranges that were formerly the Sgt Major miniature company and are pleased that we now have the first two ranges available for sale. We have kept them closely in the sets of five figures, as they were in the Sgt major miniatures ranges they are also available as individual figures and larger cost effective sets.
Winter Russians
35 figures wearing a mixture of winter clothing and headgear.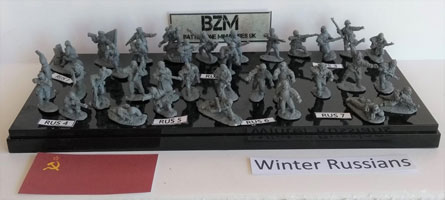 US Infantry
65 figures wearing a mixture of greatcoats and M1943 pattern Jackets and armed with a variety of infantry weapons. These figures depict European Theatre Operations.